Product DescriptionWater Tank Truck is suitable for various pavement washing, trees, green belt, green lawn, roads, construction of factories and mines, high-altitude construction flushing.
Water tank truck can be used for spraying water, suppressing dust, high and low spraying, pesticide spraying, rail and construction washing and other functions, but also has the function of water transport, milk transport, water drainage, emergency fire and so on.
Water tank truck is composed of automobile chassis, and out of the water system and tanker. According to the different use of the environment and the purpose of a variety of spraying and water transport function. Multifunctional sprinkler set a variety of functions as one, generally can be used by the user requirements of special restructuring.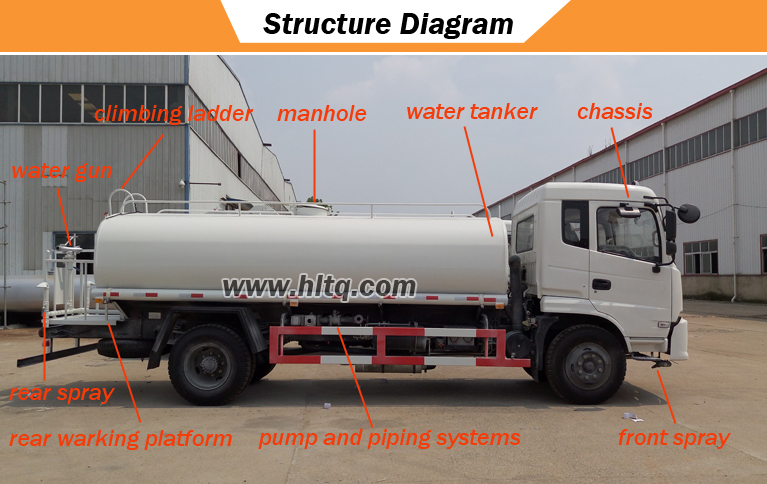 Vehicle parameters
Vehicle Model HLW50503GSSQ Vehicle Brand FOMON
Overall dimensions 5990x1870X2250mm Curb weight 2220kg
Tank dimensions 3300×1750×1140mm Tank volume 5000L
Chassis parameters
Chassis model QL10503HARY Chassis brand ISUZU
Overall dimensions 5900x1860x2180mm Wheel base 3360mm
Front/rear wheel track 1385/1425mm Front/rear suspension 1015/1525mm
Approach/departure angle 24/16° Maximum speed 98km/h
Chassis Manufacturer QingLing Motors (Group) Co., Ltd
Cab Configuration 100P ,single row cab, allowable 3 passengers, air conditioner, USB radio interface.
Color White, other color is optional
Engine Model 4JB1CN
Emission Euro 4
Type 4 cylinders, in-line, diesel engine
Rated power 98hp
Displacement 2771ml
Manufacturer Isuzu (ChongQing) Engine Co., LTD
Tire Size 7.00-15 10PR nylon tire
Number 6+1 nos
frame 172X65(4)mm
Front axle 2.5 tons
Rear axle 3.0-4.8 tons
Drive form 4X2
Suspension Multi leaf springs
Rated voltage 24V,DC
Transmissions Isuzu MSB five speed transmission,5 speed forward 1 reverse.
Steering device Power assisted steering
Steering wheel Left hand drive
Selective configuration Tire of small tonnage 700-15 and big tonnage 700-16
If there is a slight change in the chassis parameters above, please take the actual product as the standard
Water tank structure parameters
Tank dimensions 3300×1750×1140mm Tank volume 5000L
Tank material stainless steel Tank thickness 4mm
Nozzle sprinkling width ≥14m Range of water cannon ≥28m
Suction height ≥7m Color and Logo Optional
Standard configuration Chassis, sub frame, stainless steel water tank, manhole, front/side/rear spray nozzle, rear working platform, fire valve, water valve, filter gauze, water hose, climbing ladder.
Selective configuration aluminum alloy water tank, insulation layer for water tank, stainless steel water pump, fire pump, fire gun, pesticide plate, cabin gas control operated, Honda pumps, lights, crane, hanging basket, rear spraying device, barrel pesticide spraying device, gasoline pesticide machine, diesel pesticide machine, LED arrow lights
Extended model water transporting truck, thermal insulation water transporting truck, drinking water tank truck, liquid food truck, fire water tank truck, pesticide spraying truck, and etc.